---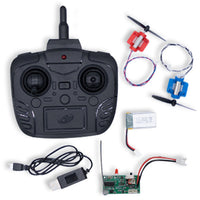 FT STEM 2Ch EZ Power Pack v.2
Flite Test
With this amazing hobby, technology is constantly improving and getting better. We want your experience with all of our EZ airframes and electronics to be the same. That is why we are excited to introduce the new version of our classic FT EZ power pack.
The new FT STEM 2Ch EZ Power Pack v.2 features a new, improved radio with better range and resolution. Additionally, the rates mode button has been moved to the top right, and the lights have been moved to the top left for easier accessibility.
The new motor/prop combination is 30% more powerful and much quieter. The new motor mounts also allow the motor to key into the wing's trailing edge for more reinforcement and resistance to moving.
The new flight control board is unique to Flite Test because it can handle the larger motor and prop combination. In addition, both the new transmitter and the flight control board are cross-compatible with the original FT EZs. 
Look for more FT EZ designs to be released soon that will fully take advantage of this new power pack.
Contents:
FT STEM 2Ch EZ USB Charger v.2 x1
FT STEM 2Ch EZ Props (set) x1
FT STEM 2Ch EZ Receiver & ESC Stabilizer Board v.2  x1
FT STEM 2Ch EZ Transmitter v.2 x1
FT STEM 2Ch EZ Motor Set v.2 x1
FT STEM 2Ch EZ 350 mAh Battery