---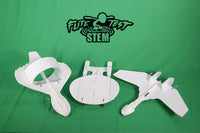 FT EZ3 Space Flyers (382mm) STEM
Flite Test
The FT EZ3 Space Flyers will take you to the next level in the world of flight or to a whole new galaxy.  The Project EZ Space Flite will guide your discovery about how Bernoulli's principle applies to wings with very different shapes.  The lesson guide and on-line videos will show you how to build and fly these custom-designed foam board planes.  They can be flown as gliders or combined with the EZ Power Pack for remote controlled flight.  Enjoy space flights as long as 10 minutes with ranges of over 400ft.  Once you have experienced the wonder of space travel, you can follow the lesson guide and use the included materials to design and build your own flyer. See ftstem.com/ez for more educational resources.   
These DIY planes can be used with the Project EZ Space Flite, as gliders or combined with the EZ Power Pack 2 Channel.       
EZ Orbit
The EZ Orbit is inspired by annular wing designs https://www.youtube.com/watch?v=Wi-YBg8xJEE.  The EZ Orbit is a smooth and stable flyer outdoors and indoors in large gyms.  It's fun for all ages to build and fly.  You might even find yourself wanting to scale it up and to paint it like a giant-sized bird.  We did! https://www.youtube.com/watch?v=fU3ISSnuD9w&t=16s
EZ Nemesis
The EZ Nemesis is inspired by the forward-swept wings on some of the most exciting jet designs ever imagined and maybe your favorite sci-fi villain's spacecraft.  The EZ Nemesis is a quick and smooth outdoor flyer.  It looks great with the optional LED set for late afternoon flying.  
EZ Voyager
We did some time travel to find the inspiration for the EZ Voyager.  The FT Nutball https://www.youtube.com/watch?v=w3__FHKIUvk is an all-time classic design that has been reimagined as a futuristic space flyer.  The EZ Voyager is a slow and maneuverable large gym or outdoor flyer.  We hope that the EZ Voyager inspires you to explore flight like the NASA Voyager probes explored our solar system.  
What's Included:
Three DIY foam aircraft - EZ Orbit, EZ Nemesis and the EZ Voyager
Compatibility:
The EZ3 Space Flyers are compatible with these FT STEM products:
FT EZ Power Pack 2 Channel
Project EZ Space Flite 
FT EZ LED Set