---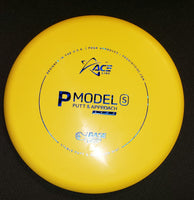 ACE LINE P MODEL S BASEGRIP PLASTIC - CALE LEIVISKA BOTTOM STAMP
Route 66 Kites
The P Model S may have more glide than any other putter on the market coupled with a straight flight and subtle fade. With a slimmer profile and small bead on the rim, it feels great in the hand and offers a consistent, clean release for drives, approaches, and putts.
The glide makes it a great putter, as it stays in the air to find chains from short and longer distances. It also has a soft fade, so you can trust it is going to finish toward the basket. Its comfortable grip, impressive glide, and reliability will make it an instant favorite.
*All P Model S putters will have a Cale Leiviska bottom stamp to support his efforts in 2021*
Stamp color may vary. Shade of disc color may vary.
Our BaseGrip plastic offers a tactile feel for a sure grip every time you reach for it. It finds a great balance between stiffness and the ability to wear-in to perfection. BaseGrip plastic provides a cost-effective option without sacrificing on quality and performance in all weather conditions.
Diameter: 21.1 cm
Height: 2.2 cm
Rim Depth: 1.5 cm
Rim Width: 1.0 cm
Min Weight: 170 g
Max Weight: 175 g
Stability: Stable
Flight Numbers: 3 | 5 | 0 | 2