---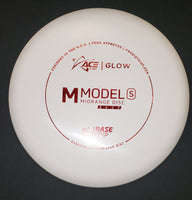 ACE LINE M MODEL S - BASEGRIP GLOW PLASTIC 178g
Route 66 Kites
Everybody needs a workhorse in the woods, and the M Model S is it. It has a neutral to slightly overstable flight with little turn and slight fade to help players throw different shot shapes by changing the release angle. When in doubt, it will be a disc you reach for thanks to its versatility, straight flight, and soft finish.
Players will be able to navigate tight fairways or throw longer approaches with confidence. Work with it at any angle to hit that perfect line. With a slightly larger diameter than drivers, M Model discs are designed for control and provide a great tool for players to learn different disc flights on both drives and approach shots
Stamp color may vary. Shade of disc color may vary.
Our BaseGrip plastic offers a tactile feel for a sure grip every time you reach for it. It finds a great balance between stiffness and the ability to wear-in to perfection. BaseGrip plastic provides a cost-effective option without sacrificing on quality and performance in all weather conditions.
We are confident BaseGrip GLOW discs are some of the most unique glow options out there. See for yourself! Once these are charged (we recommend a black light for best results), you will get a powerful, bright glow like no other.
Diameter: 21.7 cm
Height: 2.0 cm
Rim Depth: 1.5 cm
Rim Width: 1.3 cm
Min Weight: 170 g
Max Weight: 180 g
Stability: Overstable
Flight Numbers: 6 | 4 | 0 | 3