---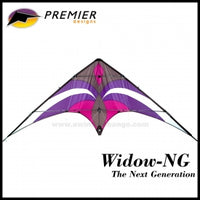 96" PURPLE & GRAY WIDOW NG STUNT KITE
Route 66 Kites
96" PURPLE & GRAY WIDOW NG STUNT KITE
Premier Widow NG
How do you make one of the best selling kites of 2013 better?   New redesign, improved balance and new stylish graphics!   The Premier Widow NG (Next Generation) takes the award winning Widow to a whole new level.

Designed based on the Skyburner Widow Maker, the Widow NG utilizes the same shape and overall design to achieve one of the best all-around kites of 2014.   Considered to be one of Jon Trennephol's finest achievements in sport kite design, Premier worked closely with Jon and Sky Burner Kites to create an updated version of this high performance flying machine.   The Widow NG excels in all slack-line maneuvers and high tech tricks yet tracks like a dream.

The Widow NG is the closest you can get to a high end boutique competition sport kite without the $400.00 price tag.
New limited *Special Edition* Widow NG!

The limited *Special Edition* Widow NG is the same fantastic kite but the sail design has 2 less panels in it and the Tail Weight has been permanently glued in instead of being removeable like on the standard Widow NG.  Same kite, great new color paterns and you save $10.00!

Features and Specifications
Ripstop Polyester for excellent performance in lighter winds.
Framed completely in high performance modulus Skyshark Carbon Fiber P Series Rods.
Complete, ready to fly with 150lb spectra line, winder and performance flying straps.
Heavy duty collapsible printed storage sleeve.
Tail weight included for maximum tricks.
Premier Widow NG
Sail
Frame
Wing span
Height
Weight
Wind range
Bridle
Tail Weight


Ripstop Polyester
Skyshark P Series Carbon Fiber
96" (8 ft wingspan)
39"
312 grams (11 oz.)
4 mph. to 18 mph.
3 Point Adjustable
Included